At DACO HEAVY LIFT we are specialists in heavy and oversized cargo, offering our clients door-to-door services for all of their project needs.
Since the founding of our company in '98, we have successfully completed major projects throughout Central-America, the Caribbean and the north of South-America.
Among the sectors in which we operate we can name the wind, thermal and hydroelectric sector, as well as petrochemical, cement and sugar cane industries.
We combine our extensive experience of local circumstances and infrastructure with European standards regarding the execution and administration of our projects. Our team of highly qualified personnel and our flexible and innovative approach to the ever more complex logistical challenges we face, make us market-leader in our field and ensure our clients are always provided with the know-how and expertise that is expected of us in this industry, which include:
Heavy and oversized transport
Crane services
Obstacle removal
Construction of bypasses
Bridge reinforcements
Temporary storage
Foundation delivery
Customs clearance
Creativity and innovation are the cornerstones of our motto:
MAKING POSSIBLE WHAT SEEMS IMPOSSIBLE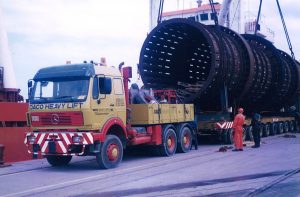 The year Daco Heavy Lift was founded. First heavy transport for Duke Energy of 4 engines, each weighing 140 tons, from Puerto Barrios, Guatemala. Purchase of first hydraulic Scheuerle trailer.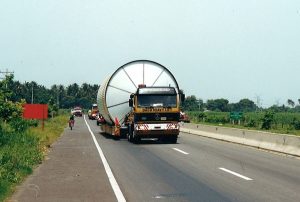 Purchase of an additional hydraulic trailer, this time a 10-axle Goldhofer. o Projects in Honduras and Nicaragua (first projects in the region). o Dutch company "Van der Vlist" provides technical know-how and support.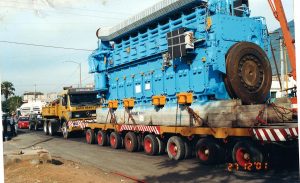 First projects in the Dominican Republic toegther with Cotrans (Mexico) and Caribetrans (Dom. Rep.). Transport of 2 Mitsubishi turbines, weighing 200 tons each. Purchase of 14 additional Goldhofer axles.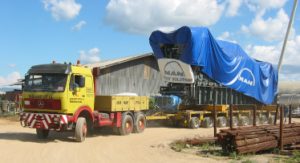 First Project in Surinam. Transport via barge and foundation delivery of 4 MAN engines of 135 tons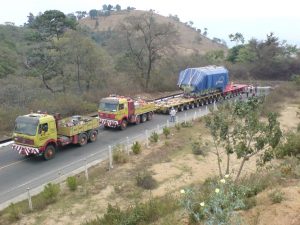 Project in Chimaltenango, Guatemala with a self-propelled trailer that we rented from an American transport company. Transport of 235 ton MAN engines.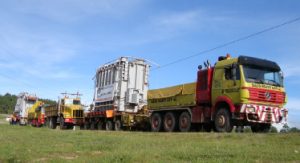 Our first wind turbine project "Amayo" (Nicaragua). Purchase of our first extendible trailers to transport the blades
Purchase of our first set of tower adapters for the transport of tower sections.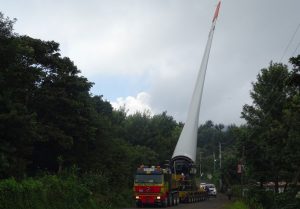 First wind turbine project in Guatemala (San Antonio El Sitio). Purchase of our blade-lifter. First wind turbine project in the world using a blade-lifter + truck (Viento Blanco, Guatemala).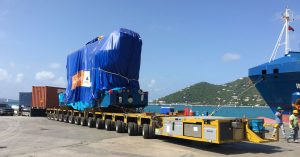 First project in Tortola, BVI with our self-propelled trailer (4 Wärtsilä engines weighing 165 tons each)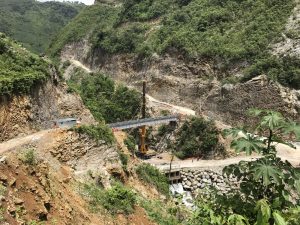 Installation of a bridge at the Renace III project. This project was particularly challenging, as the remote location of the site led us to constructing a platform in the river Cahabón so that our LTM1400 crane could be positioned properly for the installation of the bridge, weighing 110 tons.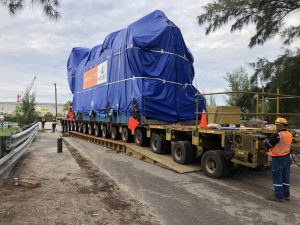 First project in the Bahamas (Nassau). We transported 7 Wärstilä engines and 7 generators from the port of Nassau up to the jobsite in Clifton Pier. There, we delivered all components onto their foundation using our jack & slide method.